STEM Programs
STEM education is an increasingly important part of the Foundation's grantmaking efforts. Pinkerton supports career exploration programs for low-income high school students that include mentored research opportunities and STEM-related internships at community-based organizations. We also support initiatives designed to introduce high-quality science and technology activities in after-school programs.
The Pinkerton Science Scholars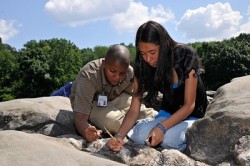 It's not often that a grant recipient says "no" to a substantial grant increase, but that's just what the American Museum of Natural History did when Pinkerton proposed expanding the institution's Science Research Mentoring Program. The Museum had simply run out of scientists to work intensively with disadvantaged young people in real-world scientific research. All hands were disappointed, but looking back, that rejection was critically important. It led the Foundation to authorize a planning grant to the Museum in the spring of 2011 to develop a template based on its program and to create a consortium of other science-based institutions in the city.  The ultimate goal: to launch a host of other high quality research mentoring experiences for New York City high school students.
We could not be happier with the results. Armed with $6.6 million in Pinkerton grants through 2016—and a pledge of up to $8 million more over the next four years–eighteen institutions now offer in-depth research mentoring programs. By the summer of 2021, we expect that nearly 3,000 talented but economically disadvantaged students will have completed the academic and research requirements to be named Pinkerton Science Scholars. In addition to AMNH, the participating institutions include NYU Tandon School of Engineering, Cold Spring Harbor Laboratory, Wave Hill, Columbia University's Mortimer B. Zuckerman Mind Brain Behavior Institute, Columbia's Lamont-Doherty Earth Observatory, the Rockefeller University, NOAA-CREST Center at City College, HYPOTHEkids, Inc., Rockaway Waterfront Alliance, Icahn School of Medicine at Mount Sinai, and seven CUNY College Now STEM Academy programs at Lehman, Brooklyn, Queens, York and City Colleges, Baruch, and John Jay colleges.
To be eligible to join the Science Research Mentoring Consortium, each institution must target participants from poor neighborhoods and develop programs that offer a minimum of seventy hours of high-quality coursework in scientific principles and laboratory research skills; student immersion for at least 100 hours in an authentic research project under the direct supervision of a trained scientist; and a culminating project that allows the young participants to present their research publicly.
For its part, the Museum of Natural History is clearly pleased by the success of its offspring and their potential to inspire young New Yorkers to pursue careers in science.  As AMNH President Ellen Futter puts it:  "No individual institution or program can, in isolation, solve the STEM education crisis in our nation… Our distinguished partners in this effort bring an indispensable range of expertise and content to the program while allowing us to reach many more young people each year."
Sometimes a "no" can lead to wonderful things.
More information can be found at:  http://www.studentresearchnyc.org