Career Readiness
Few things prepare young people for successful careers better than hands-on learning. Pinkerton supports career internship opportunities, industry-specific certification projects and rigorous job training programs that teach both the hard and soft skills needed to advance in the workplace.
The New York Hall of Science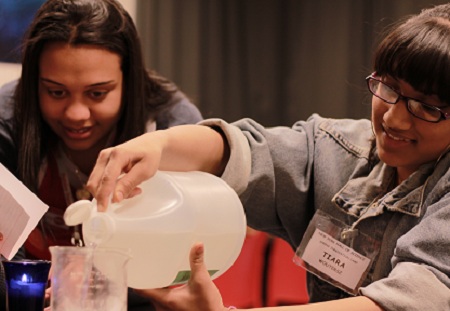 Seven days a week, virtually every week of the year, the New York Hall of Science throbs with youthful wonder and delight. Built originally as a pavilion for the 1964 World's Fair, the Hall is now New York City's only hands-on science and technology museum center. The Hall's 500,000 visitors each year are encouraged to clamber over, around and often through exhibits demonstrating the basic—and sometimes advanced—principles of physics, biology, chemistry and, yes, even rocket science. To make the experience more engaging and educational, the Hall employs a corps of 100 high school and college student "Explainers" who conduct demonstrations, answer questions and play an active role in making sure that the museum's programs are as kid-friendly as they can be.
The Explainers are part of an innovative internship project known as the Science Career Ladder.  The SCL is designed to encouraged young women and students of color to consider careers in the so-called STEM professions—science, technology, engineering and mathematics. In addition to their modestly-paid work on the museum's floor, most Explainers assist in after-school and summer programs for elementary school children. Typically, 70 per cent of the Explainers serve for more than one year. "They are really the face of the museum," said Jenny Correa, the former head of the Explainers program and now an associate program officer with The Pinkerton Foundation. "Everyone leaves with a passion for science."
Every aspect of the Hall's programming is designed to be welcoming to an extraordinarily diverse audience. Indeed, it's been estimated that more than 100 different languages are spoken within a five mile radius of the Queens facility.  Since the Hall re-opened after renovation in 1986, seven million visitors have toured the exhibits and happily learned a lot of science along the way.
The Pinkerton Foundation has supported the Hall of Science with fifteen grants totaling $1,015,000 since 1997.  In 2011, the Foundation awarded a grant of $75,000 to the Career Ladder program.